Click or scroll down for more...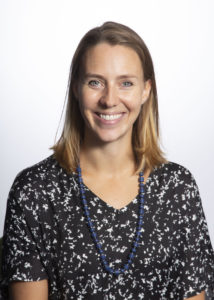 Sarita Myers is the Principal of the High School. She comes to Prague from Michigan with her husband, Steve, a teacher of Mathematics and Music, her daughter, Olivia, and her son, Owen. Sarita has achieved her Master's degree in School Administration, and has taught all levels of students at Riverside Junior and Senior High School. This will be Sarita's tenth year at Riverside.
The Senior High is designed to prepare students for post-secondary education in universities throughout the world. Students earn the Riverside High School Diploma and the International Baccalaureate Diploma.
A wide-range of courses offer students a diverse and challenging programme while allowing them opportunities to extend themselves by exploring interests in areas of specialism. The Senior High offers an extensive Skills for Life programme – including extra-curricular opportunities in sports, outdoor pursuits, visual and performing arts, speech and debate.
The Senior High places an emphasis on developing global citizens through service opportunities, humanitarian and cultural trips, Model UN and Student Council. Riverside's Senior High building is easily accessible by public transportation – conveniently located near the Hradčanská Metro and Tram stops in Prague 6.